In our last newsletter, we celebrated our 50th edition of Tech Tools for Teachers. You can find it here.
This newsletter linked back to the 50 tutorials we have written over two years that offer you advice on how to integrate free web 2.0 tools into your classroom.
Tech Tools for Teachers will be relaunched in early 2012 to keep you up to date with the latest in online tools. Until then, we are focussing on a hands-on professional development day that we are running to kickstart 2012.
***
Technify Your Teaching in 2012 will be held on Monday 30th January at Leopold Primary School in Victoria, Australia.
Educators who sign up before 20th December will enjoy an early bird price of $99. With no replacement teacher costs involved, we hope this will be an affordable option for schools looking to upskill their teachers in effective technology integration.
We will be offering sessions on classroom blogging, web 2.0 tools, Google Apps, podcasting, screencasting and internet safety.
There are limited places available so get in quick by signing up here and find out more information here.
***
While you are reviewing your professional development needs for 2012, you might also consider checking out Meeting of the Minds Unconference.
This two day event hosted by Tony Richards, Jess McCulloch and Andrew Williamson is built around stories for the purpose of making strong connections with other passionate educators who are integrating ICT with pedagogy.
The event will be held on February 25th and 26th 2012 at Quantum Victoria. The cost is $250. Check out www.meeting-ofthe-minds.com for more information.
***
Finally, we'd like to ask everyone to take a moment to vote for us in the Edublog Awards!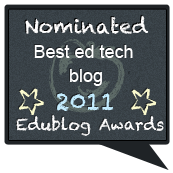 Go to http://edublogawards.com/vote-here/ and select "Best ed tech/resource sharing blog" and then select "Teaching Generation Now".
While you are there, why not vote for "Integrating Technology" in the "Best teacher blog" category or "2KM and 2KJ @ Leopold P.S." in the "Best class blog category"?
We appreciate your support! You can vote once a day until this Wednesday 14th December.
Thank you!